Retreat 2017
Click on the image below to start slideshow of photos from the retreat.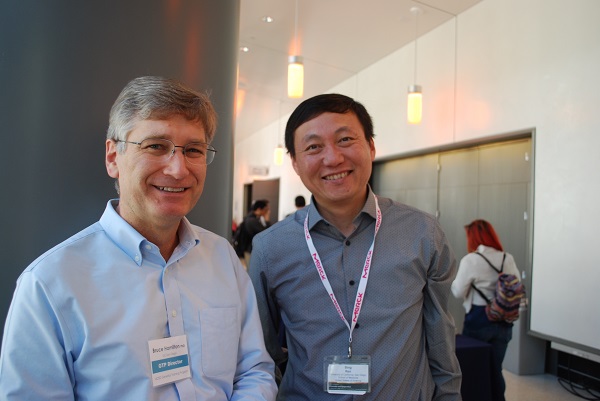 Thursday, May 11, 2017
8:15 am - 5:30 pm
Morning Keynote: Dr. Lucy Shapiro, Virginia and D. K. Ludwig Professor of Developmental Biology and Director, Beckman Center for Molecular & Genetic Medicine, Stanford University
Afternoon Keynote: Dr. Leonid Kruglyak, Professor of Human Genetics and Biological Chemistry, Chair of Human Genetics, and HHMI Investigator, University of California Los Angeles
Agenda:
8:15 Coffee and Registration
8:45 Welcome and Opening Remarks: Elizabeth Winzeler, Associate Director, Professor of Pediatrics.
9:00 Kevin Ross (Hamilton Lab) - Genetic Suppression of Retroviral Mutations by Nxf1.
9:15 Arshad Desai, Professor of Cellular and Molecular Medicine - How Cells Get the Right Genomes.
9:45 Anthony Schmitt (Ren Lab) - TBA
10:00 Morning Keynote:
Lucy Shapiro, Stanford University
Systems Architecture of a Bacterial Cell Cycle
11:00 Coffee Break
11:15 Sophia Espanola (Traver Lab) - The Histone Chaperone, supt16h, Regulates the Elongation of Genes Required for Hematopoietic Stem Cell Specification Through p53.
11:30 Kun Zhang, Professor of Bioengineering - Single-Cell Analysis of the Human Brain.
12:00 Alexandra Buckley (Schork Lab) - Identifying Batch Effects in Public Data Sets: Garbage In Garbage Out.
12:15 Lunch
1:15 Julie Law, Assistant Professor, Salk Institute - Establishing and Interpreting DNA Methylation in Arabidopsis Thaliana.
1:45 Sam Stoner (D. Zhang Lab) - Transcriptional Repression of RASSF2 Impairs Hippo kinase Signaling to Promote t(8:21) Leukemia Cell Survival.
2:00 Rafael Bejar, Assistant Professor of Medicine - Translational Genetics in Myelodysplastic Syndromes.
2:30 Genevieve Ryan (Mellon Lab) - Antiandrogen Treatment Ameliorates Reproductive and Metabolic Phenotypes in the Letrozole-induced Mouse Model of Polycystic Ovary Syndrome.
2:45 Bernardo Lara (De Maio Lab) -  Characterization of Stress-Induced Extracellular Vesicles.
3:00 Dessert and Poster Session - Atkinson Hall Theater
4:00 Afternoon Keynote:
Leonid Kruglyak, UCLA
Complex Traits and Simple Systems
5:00 Closing Remarks: Bruce Hamilton, Director, Professor of Cellular and Molecular Medicine.
We gratefully acknowledge the following sponsors for their support:
| | |
| --- | --- |
| Illumnia, Inc. | UCSD Division of Biological Sciences |
| 10x Genomics | UCSD Department of Pediatrics |
| New England Biolabs | UCSD Department of Medicine |
| Roche | UCSD Institute for Genomic Medicine |