Retreat 2016
Click on the image below to start slideshow of photos from the retreat.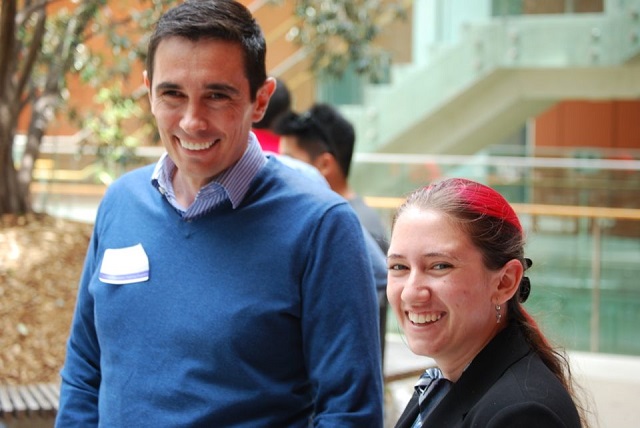 Agenda
Medical Education and Telemedicine Auditorium
Monday, April 25, 2016
8:00 am - 5:00 pm
Opening Keynote: Dr. Eric Green, Director, NHGRI
Closing Keynote: Dr. Sarah Tishkoff, University of Pennsylvania
8:15 am
Coffee and Registration
8:30 am
Welcoming Remarks: Prof. Elizabeth Winzeler, Retreat Committee Chair
8:45 am

Keynote Lecture:
Eric Green, M.D., Ph.D.
"From The Human Genome Project To Precision Medicine: A Journey To Advance Human Health"

Dr. Green is Director of the National Human Genome Research Institute (NHGRI), one of the US National Institutes of Health.

10:00 am

Faculty Lecture:
Mana Parast, M.D., Ph.D., Department of Pathology
"Modeling Human Placental Development Using Pluripotent Stem Cells"

10:30 am

Student Presentation:
Gabriel Pratt (Gene Yeo lab)
"Distinct and Shared Molecular Targets and Functions of ALS-associated TDP-43, FUS, and TAF15 Revealed By Comprehensive Multi-System Integrative Analyses"

10:45 am
Coffee Break
11:00 am

Student Presentation:
Babette Hammerling (Asa Gustafsson lab)
"Parkin Mediates Clearance of Damaged Mitochondria via Two Distinct Pathways"

11:00 am

Faculty Lecture:
Alysson Muotri, Ph.D., Departments of Pediatrics and Cellular & Molecular Medicine
"Stem Cell Modeling of the Human Social Brain"

11:35 am
Box Lunch and Poster Session
12:45 pm

Faculty Lecture:
Joe Ecker, Ph.D., Salk Institute
"Cistrome and Epicistrome Features Shape the Regulatory DNA Landscape"

1:15 pm

Student Presentation:
Fernando Martinez (Gene Yeo lab)
"Protein-RNA Networks Regulated By Normal And ALS-Associated Mutant HNRNPA2B1 In The Nervous System"

1:30 pm

Faculty Lecture:
Miles Wilkinson, Ph.D., Department of Reproductive Medicine
"The Antagonistic Gene Paralogs of Upf3a and Upf3b Govern Nonsense-Mediated RNA Decay"

2:00 pm

Student Presentation:
Michael Yu (Trey Ideker lab)
"Translation of Genotype to Phenotype by a Hierarchy of Cell Subsystems"

2:15 pm
Coffee Break
2:15 pm

Faculty Lecture:
Amy Pasquinelli, Ph.D., Division of Biological Sciences
"Pinning Down MicroRNA Targets In Vivo"

3:00 pm

Keynote Address:
Sarah Tishkoff, Ph.D
"Evolution and Adaptation In Africa Inferred From Integrative Genomic Analyses"

Dr. Tishkoff is David and Lyn Silfen University Professor in the Departments of Genetics and Biology at the Perelman School of Medicine and School of Arts and Sciences of the University of Pennsylvania.

4:00 pm

Awards and Closing Remarks
Prof. Bruce Hamilton, Director, UCSD Genetics Training Program
Genetics Retreat Planning Committee:
Elizabeth Winzeler (Pediatrics), Darla Schell (UCSD Institute for Genomic Medicine),
Students: Greg Goldgof, Babette Hammerling, Cynthia Hsu, Eric Scott, Fernando Martinez, Gabriel Pratt (student chair), Mike Yu, Naomi Searle
Sponsors:
We gratefully acknowledge New England Biolabs, Roche, Illumina, UCSD Department of Psychiatry, UCSD Department of Reproductive Medicine, and UCSD Institute for Genomic Medicine for their support of this event.