Retreat 2015
Click on the image below to start slideshow of photos from the retreat.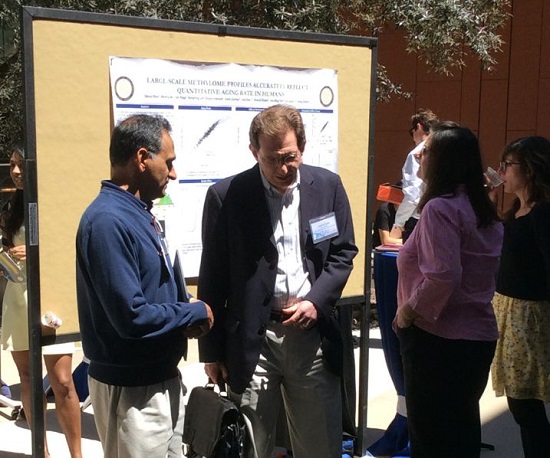 Agenda
Medical Education and Telemedicine Auditorium
Friday, April 17, 2015
8:00 am - 5:00 pm
Morning Keynote Address
Stephen Quake, D. Phil.
Dr. Stephen Quake is widely known for his contributions to genomics, microfluidics, and personalized medicine. In addition to his academic lab, Dr. Quake has founded or co-founded several companies, including Helicos and Fluidigm. He has been recognized with the Lemeson-MIT prize for outstanding inventors, among many other awards, and with election to the Institute of Medicine, the National Academies of Sciences, Engineering, and Inventors, and the American Academy of Arts and Sciences. He is currently the Lee Otterson Professor of Bioengineering and Howard Hughes Medical Institute Investigtor at Stanford University.
Afternoon Keynote Address
David Botstein, Ph.D.
Dr. David Botstein has consistently made pioneering contributions to genetics over successive decades. His contributions include harnessing yeast genetics to understand fundamental properties of cell biology, development of human DNA polymorphisms as genetic markers, and development of methods to analyze genome-scale data. His many honors include election to the National Academy of Sciences, the Genetics Society of America Medal, the Allan Award of the American Society for Human Genetics, the Gruber Prize in Genetics, the Albany Medical Center Prize, and the Breakthrough Prize in Life Sciences. He has previously served as Professor of Genetics at MIT, Vice President at Genentech, Chair of the Department of Genetics at Stanford, and Director of the Lewis-Sigler Institute for Integrative Genomics at Princeton. He is currently Anthony B. Evnin Professor of Genomics at Princeton University and serves as Chief Scientific Officer of Calico.
Faculty and Student Speakers
Morning Session
Jonathan Grinstein, Student, Neil Chi lab
Yishi Jin, Professor of Biological Sciences, CMM, and HHMI
Chris DeBoever, Student, Kelly Frazer lab
Lauren Fong, Student, Larry Goldstein lab
Pamela Mellon Ph.D., Professor of Reproductive Medicine
KEYNOTE: Stephen Quake, Stanford University
Afternoon Session
Chris Glass M.D., Ph.D., Professor of Cellular & Molecular Medicine
Jackie Benthuysen, Student, Maike Sander lab
Maike Sander M.D., Ph.D., Professor of Pediatrics and CMM
Al La Spada M.D., Ph.D., Professor of Pediatrics and CMM
Jonathan Grinstein, Student, Neil Chi lab
KEYNOTE: David Botstein, Calico
---
Genetics Retreat Planning Committee:
Elizabeth Winzeler (Pediatrics), Darla Schell (UCSD Institute for Genomic Medicine),
Students: Jackie Benthuysen, Chris DeBoever (student chair), Larry Du, Lauren Fong, Jonathan Grinstein, Panid Sharifnia.
Sponsors:
We gratefully acknowledge the UCSD Division of Biological Sciences, Department of Cellular & Molecular Medicine, and Institute for Genomic Medicine and Illumina Inc. for their support of this event.