Retreat 2013
Click on the image below to start slideshow of photos from the retreat.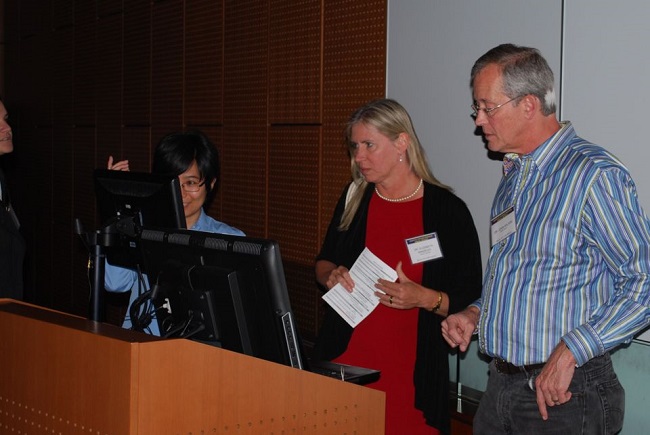 Agenda
Medical Education and Telemedicine Auditorium
Friday, May 24, 2013
9:00 am - 5:30 pm
Special Morning Keynote
Herbert W. Boyer, Ph.D.
Dr. Herbert Boyer was Professor of Biochemistry at the University of California, San Francisco. He discovered methods for recombinant DNA that led to a revolution in understanding of molecular genetics and biological mechanisms and developed the first synthetic peptide hormones. To promote the application of his basic discoveries to human health, Dr. Boyer co-founded Genentech in 1976.
Dr. Boyer has received the Lasker Award for Basic Medical Research, the National Medal of Technology, and the National Medal of Science among many other honors and awards.
Keynote Address
Andrew Fire, Ph.D.
Dr. Andrew Fire is Professor of Pathology and Genetics at Stanford University School of Medicine. His laboratory studies how organisms adapt to genetic changes and how genomes respond to changing conditions, using the nematode worm C. elegans as their primary reseach organism.
Among many awards for his pioneering work, Dr. Fire shared the 2006 Nobel Prize in Physiology or Medicine with Craig Mello "for their discovery of RNA interference - gene silencing by double-stranded RNA."
Faculty and Student Speakers
Gordon Bean, Trey Ideker lab
Don W. Cleveland, Ph.D., Distinguished Professor and Chair of Cellular and Molecular Medicine
Anne Conway, Leanne Jones lab
Kelly Frazer, Ph.D., Professor of Pediatrics and Director, Institute for Genomic Medicine
John Kelsoe, M.D., Professor of Psychiatry
Mark Moyle, Arshad Desai lab
Thomas Stark, Gene Yeo lab
Melissa Wilbert, Gene Yeo lab
Debra Yelon, Ph.D., Professor and Vice-Chair of Cell and Developmental Biology
Kun Zhang, Ph.D., Associate Professor of Bioengineering
Susan Zhang, Bruce Hamilton lab
---
Genetics Retreat Planning Committee:
Elizabeth Winzeler (Pediatrics), Joseph Gleeson (Neuroscience), Peggy Bonine (UCSD Institute for Genomic Medicine),
Students: Gordon Bean, Anne Conway, Mark Moyle, Chloe Rivera, Thomas Stark, Melissa Wilbert, Susan Zhang.
Sponsors:
We gratefully acknowledge the UCSD Division of Biological Sciences, Department of Pediatrics, and Institute for Genomic Medicine and Illumina Inc. for their support of this event.